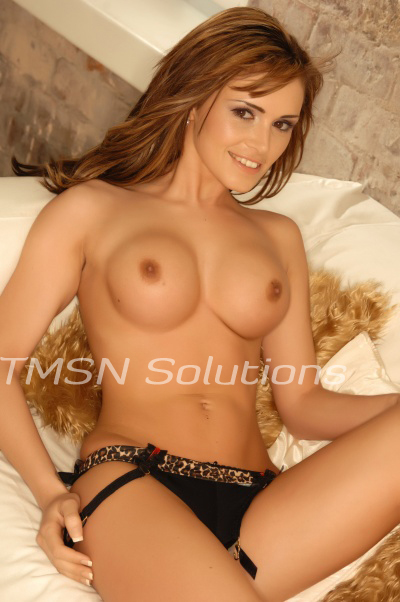 Sadie 1-844-332-2639 ext. 222
I have a surprise for you, naughty adult baby. A soft whisper from my lips, while my hand pulls you through my bedroom door. Due to your thoughts being on my lace and satin bra covered tits, or maybe even anticipating already what it will be like to be inside my body, you probably didn't even hear it. The lusty glow in your eyes sears my skin while you step into me taking my lips in a passionate kiss. Subtly, you are turned so your back is at the edge of my bed. Triumphantly. you have unhooked my bra and lean back. Laying back on my bed, just taking in the sight of my magnificent naked breasts.
That's Right Naughty Adult Baby, Just Let Mommy Take Care of You
My body moves up between your knees, while my fingers deftly work at the fastenings of your pants. Now you can feel every thumping beat of your heart racing faster. Leaning over the top of you, my lips lightly almost chastely brush your lips. Then, my fingers curl into your waistband and push down your pants, stripping you naked from the waist down.
In the low glow of the dimmed lamp you just now notice the little box of baby wipes on the nightstand. Plucking one out, I coo "Don't you worry mommy is going to take good care of you." After which, you feel the shocking cold of the wet wipe encircle your hot hard cock. Oh, but that does feel good, doesn't it? The coolness giving way to the wet almost cottony warmth. Okay. Maybe getting a handjob with a baby wipe is a little strange, but I'm really hot. You are willing to deal with this little eccentricity of mine.
What Are You Willing To Do For A Sexy Mommy?
But then you hear a swoosh of canvas sliding across the carpet. A crinkle of plastic. Followed by a hollow thump on the bed beside you. Instinctively you know what it is. It's a diaper. But my hand is doing marvelous things to your cock. You will see where this goes.
The dread in your mind becomes a thing, when my free hand reaches for your ankle, tugging it upwards. Almost as if some long forgotten instinct kicks in you pull your knees up towards your chest. Simultaneously a huge smile spreads across my face. "What a good boy!" the soft coo of my voice warms something inside of you.
After casually tossing away the dirty wet wipe, you hear the snap of the disposable diaper being pulled quickly open. It takes so little force to tilt your hips back, you must be helping me. Maybe the warm touch of my fingers on your knee reminds you of how good it felt on your cock even muted by the baby wipe. Maybe that's why you are willingly letting me slide this diaper underneath you.
Mommy Loves To Make Naughty Adult Babies Cum In Their Diapers
Even though the thick lining feels very soft underneath you, it is still a little embarrassing to be laying on a diaper in front of a beautiful, half-naked woman, isn't it? But, then my hand encircles your shaft once more. A soft powdery scent tickles your nose from the baby lotion lubing your cock. "You are such a naughty adult baby aren't you." The fingernails of my other hand swirl over your balls. "Getting so hard for mommy."
Undoubtedly, you are struggling for words to say, but then my finger slips inside your ass. My way of telling you words aren't necessary from an adult baby like you. "Mommy is going to have to punish you. Isn't she?" Methodically the pumping finger seems less of an invasion now and more of an intimacy. Feeling your cock harden in my grip I smile. "I should've known a naughty baby like you would enjoy this."
And you are mommy's naughty boy, aren't you?
Mommy Sadie
1-844-332-2639 ext 222
https://phonesexmamas.com/sadie