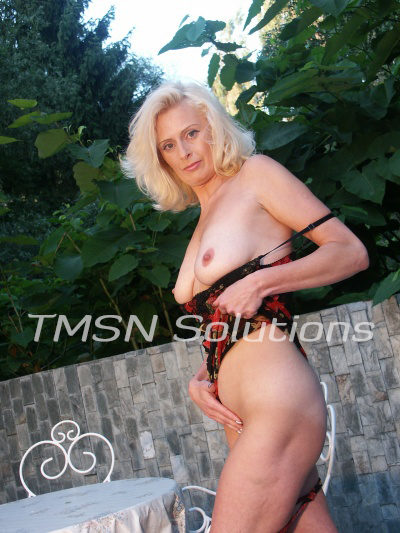 Lori
844 332 2639 x 352
……Paul had grown into a handsome man and filled out the officer uniform very well.
I couldn't help but remember when he was growing up with my boys.  I would find him watching me when we were at the pool or when I would take them on outings.  I will admit I encouraged it.  it amused me that he couldn't hide his teen erection.  When he started bringing girls around they seemed to have some of my features too.  I wondered about him with them; pretending it was me. 
And now here we are on the side of the road police officer and speeder.
"Oh, Ms. Charms," he said.  I told him he certainly had grown into a handsome man.  He told me I didn't need to get out of the car.  I told him I think I do.  Maybe we could visit a bit; it had been so long.  I could tell he was getting uncomfortable.  I put the cigarette up to my lips and let the fash of the lighter allow him to see into my eyes.  I wanted him to see the seduction.  I walked closer to him and told him I remember when he was younger and how he would stare at me.  As I said this I let the staps of my tank top slide down my shoulders.  As I bared my boobs I asked if that was what he was looking at.  I moved closer; took his hand and placed it right on a hardening nipple.  He couldn't resist. He fondled it.  I moved my hand down his slacks, searching.  When I found his hardening dick I pressed.  It seemed to jump into my hand.  He responded by unbuckling his service belt and placing it on the hood of my car.  Almost as if daring me to continue.  I unzipped his pants and pulled his dick out into the night air.  Looking up at him I lowered myself till I was eye level with his dick and took it into my mouth.  I felt him tremble a bit.  I wonder how many times he'd dreamed of this in the past.  I moved in to give him a blow job he wouldn't forget.  As I sucked his dick and fondled his balls; he placed a hand on the back of my head and pumped. Soon he was filling my mouth full of his cum.  So proud of myself I composed myself as he redressed.  He reached for his ticket book and flipped it open.  "What? I said; I thought that ticket was taken care of!"
"It's ok Ms. Charms; it's for your tail light; that's why I stopped you, it needs to be replaced".
Lori
844 332 2639 x 352
www.sissyphonefantasy.com/lori/